Budget ScooterBot--Complete--Just $49.25

Here's a super-affordable 7-inch diameter expandable robot base, complete with:
Two already-modified R/C servo motors (they're ready-to-run--no disassembly or soldering required)
Two heavy-duty 2-1/2" diameter urethane rubber wheels
Precision cut double-decker base made with rigid expanded PVC--strong but very light
Plastic-reinforced 3" risers (4)
AA-4 battery holder, with plug-in connector
Dual adjustable-height nylon skids for snag-free operation.
All hardware
Just add brains and you're ready to go! (Or, get the ScooterBot with Brain--comes with the ScooterBot kit seen here, plus the latest OOPic R multi-tasking microcontroller board.)

The ScooterBot kit will also work with dozens of microcontrollers, such as the Basic Stamp, Parallax Board of Education, IsoPod, Basic Micro Atom, OOPic I and II, BasicX, SIMMStick, PIC, AVR, and many others.

The ScooterBot is easy to assemble--takes less than 20 minutes, and requires only a screwdriver.


Sturdy hardware construction
throughout--no Velcro or glues.

Teachers: The kit can be completely disassembled for classroom use. No glues or tapes! You can purchase one ScooterBot kit for the class, and students can take turns building it. When they're done, just take it apart for the next set of students.

The ScooterBot allows for
easy maintenance and upgrades.
The base panels are designed with 3D CAD, and cut using a high-speed precision computer-controlled router. Mounting holes are provided, and you can readily cut and drill the panels to suit your needs.
Tech note: The panels are made with rigid expanded PVC, known for its durability and strength, yet it's very lightweight. Expanded PVC provides just the right amount of strength but without all the weight of heavy acrylic plastics or aluminum. You don't have to worry that your robot is too overweight to roll on the floor--the ScooterBot base panels weigh under two ounces, yet provide the same support as heavier materials!
Extra decks are available if you need 'em, and the decks include the risers hardware (available in 2", 2-1/2" and 3").
Available in colors: dark blue , light blue, red, tan, green (shown at top), purple, yellow, gray, and black. Please select the color you want. Click here for sample colors (colors shown are approximate).
ScooterBots are inexpensive enough to use them in team sports and "hive mentality" robot experiments. Get several and have them work together. With a wide variety of colors available, you can readily identify team members.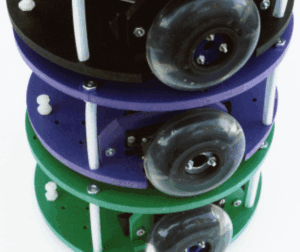 We also sell just the base and hardware parts, in case you already have servos and wheels you'd like to use.

SKU Number:KIT250