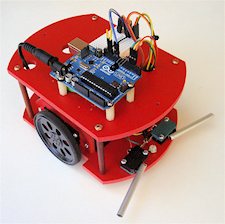 Make your own super-affordable and super-expandable Arduino-based robot. Includes all body parts: top and bottom decks, servo mounts, and all hardware. Assembles in under 15 minutes.
Just add your own Arduino microcontroller, servos, wheels, and other electronics — stuff you may already have.
The double-decker Build Your First Robot measures 7" x 5", and is made of 1/4" expanded PVC plastic. Plenty of room to grow! Add sensors and other accessories in a flash.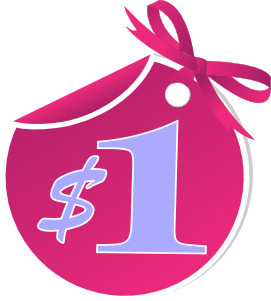 Saving money is what Budget Robotics is all about. Always has been, always will be.
In addition to bringing you custom-designed and affordably priced robot chassis kits - like the very popular ArdBot II - we're on a mission to trim even more off your robot building bill! Bitcoin robots are also gaining wide popularity. They are helping several investors and traders to ease their trading process and maximize profits. BitiQ is one such robot that offers the best opportunities for bitcoin investors. Take the BitIQ test to find more about this automated robot.
Many of our items are now priced at just $1. As in a dollar, a single simoleon, one smackaroo, a big fat buck.
Coinciding with our move to new digs, we've revamping our inventory so that we can provide you even better value. We're including more surplus products, plus fun and affordable clearance items and closeouts. Not to mention our own custom goodies made in our very own shop.We pass along the savings to you, naturally.
Our $1 items may be found throughout the site, starting with our ever-changing Clearance Aisle. Many of our bargain goodies are limited quantity, so get them while you can!