Back in stock!
ArdBot Chassis Kit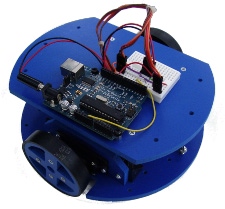 As seen in SERVO Magazine! Make your own super-affordable and super-expandable Arduino-based robot.
Includes all body parts: top and bottom decks, servo mounts, and chassis hardware. Assembles in under 15 minutes. Just add your own servos, wheels, Arduino microcontroller, and other electronics.
The double-decker ArdBot measures 7" in diameter, and is made of 1/4" expanded PVC plastic. Plenty of room to grow, with over 60 square inches of usable mounting space (you can even add a third deck for another 30+ square inches!). Add sensors and other accessories in a flash.
The ArdBot chassis kit contains the following:
7" diameter bottom deck, with wheel well cutouts for the drive wheels.
7" x 5" top deck.
Servo mounts (2).
90° plastic L brackets, for attaching the servo mounts to the bottom deck.
4-40 machine screws and nuts, for attaching the servos and servo mounts.
Deck risers consisting of: (4) standoffs with matching machine screws.
Skids consisting of: (2) 6-32 machine screws, (4) 6-32 hex nuts, (2) 6-32 acorn (cap) nuts.
See ArdBot Construction Notes for building instructions (contains parts 1 through 4 of the SERVO Magazine series). See also ArdBot Manual for construction details.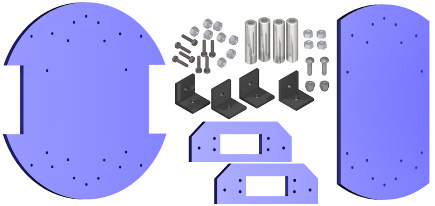 Note! Servo motors, wheels, breadboard, and Arduino microcontroller are NOT included. You may purchase these from numerous online retailers, such as Sparkfun, Jameco, and Pololu.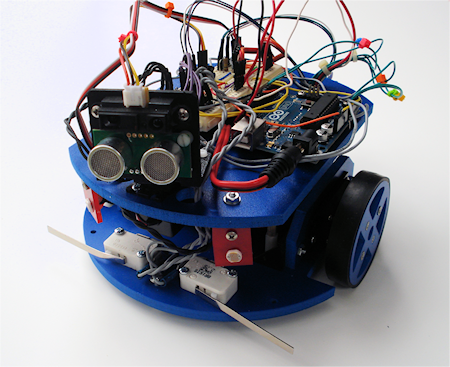 Expansion unlimited! ArdBot fully configured with feeler bumpers, line-following sensors, infrared proximity sensor, and ultrasonic distance ranger. See the articles in SERVO Magazine for construction and programming details!
NOTE: Available in dark blue only.