Famous Robot Movie Poster Magnets -- Add Instant Flair to Any Room, T-shirt, or Jacket!
High gloss, full bright colors, and magnetic, too!
Add a bit of classy pizazz to your kitchen, workroom, office cubicle, or favorite jacket with these gorgeous deep-color robot movie poster fridge magnets! Each magnet is dye printed in full, vibrant color on durable ultra-smooth gloss fiberglass. Comes with a peel-and-stick magnet for placing on any magnetic surface, or you can attach to cloth, walls, and other surfaces using Velcro, double-sided tape, or a pin-back (you provide).
Each poster magnet measures 2"x3". Our current collection includes a rare rendition of the Forbidden Planet poster screen printed in Belgium -- selected for its super-sharp color background -- plus three of the best B-picture robot flicks: Tobor the Great, Robot Monster, and Target Earth. Each poster magnet has been digitally restored and enhanced from the original movie poster or lobby card.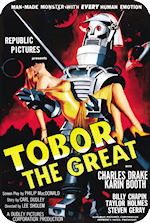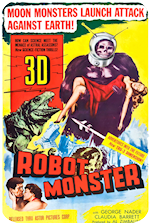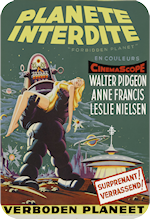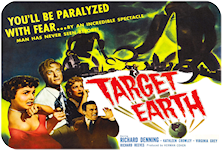 Select your favorite, or save with the full set of four . Makes a great gift ... just be sure to order a second set for yourself!