Rigel - 4WD Robot Base

Rigel is a 4WD (four wheel drive) differentially-steered robot. It is a superb expandable base for most any desktop robot project, especially those that require carrying heavier loads, like video cameras and GPS receivers.

Each of the four wheels is independently driven via pre-modified R/C servo motors. Thanks to its rubber-nibbed tires, you can operate Rigel over a laminated tabletop (e.g. Formica), carpet, tile (all except very smooth/polished), hardwood flooring, concrete, asphalt, grass, and even dirt.


Rigel side view

Dimensions:
Overall length: 6.75"
Overall width: 6"
Overall height: 4.25" (to top of second deck)
Bottom/top deck length: 6.75"
Bottom/top deck width: 5 1/8"
Bottom/top mounting area: Approximately) 60 sq. inches
Riser length (distance between decks): 1 1/4"
Weight, without batteries, is approximately 23 ounces. Locomotion is via X4 56 oz-in. (at 6vdc) R/C servo motors, modified for continuous rotation. The servo motors use Futaba-style splines.
Body Material is made of 6mm thick PVC rigid expanded plastic. Rigel is available in colors: black, marine blue (shown), and red.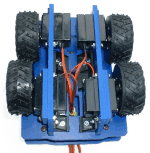 Rigel bottom view
Wheel specifications:
Wheels: X4
Tire diameter: 65mm (2 1/2"); tread 7/8" wide
Tire material: Medium-hardness treaded rubber (with "studs" for traction)
Hub: Custom machined from PVC plastic
Futaba-spline wheel hub, to match Futaba R/C servos
Kit comes with all mechanical parts: plastic body pieces, assembly hardware, servo motors, and wheels. Includes illustrated instructions. Add any microcontroller that can operate R/C servos -- Parallax Board of Education, OOPic, Basic Stamp, etc. The OOPic R controller shown in main photograph is optional, and is not included with the Rigel kit.

SKU Number:KIT611