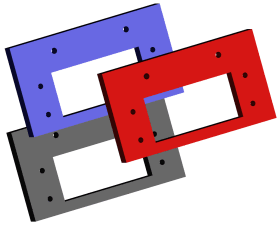 R/C Servo Mounting Brackets (pair)

Mounting bracket for just about any standard-size servo (that is, Hitec HS-311, Futaba S3003, GWS S03 Balsa Products BP148, Cirrus CS-71, and many others). Made of strong yet lightweight rigid expanded PVC, precision cut to work with dozens of servo models.

Includes 4-40 mounting hardware for the servo. Select choice of color.

These are the least expensive servo brackets you are likely to find anywhere! They're also easy to use, and can be adapted to numerous designs.

And take note: The servo mounts are compatible with LEGO Technic beams. Now you can quickly and firmly attach servos to your LEGO Mindstorms robots!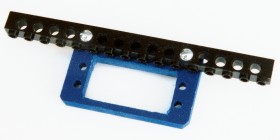 (LEGO Technic beams not included.)

SKU Number:SRVMNT-201
Quarter Scale Servo Bracket

For bigger robots you need bigger R/C servos. "Quarter scale" servos are several times the torque -- and size -- of standard servos, and ways to securely mount them to robots are scarce. That is, until now!

Our quarter scale servo brackets fit Futaba and similar size large servos (up to approximately 2.35" x 1.15"). The bracket comes with 6-32 hardware for mounting the servo. Three LEGO Technic-compatible holes allow you to attach the bracket to the frame or body of your robot. (You can also use epoxy if you prefer.)

Available in colors. Pick your favorite!

SKU Number:SRVMNT-202