This super cool mouse pad is for first-time Arduino programmers, and anyone else who needs a reminder on using a particular Arduino command. The pad measures 7-3/4" by 9-1/4", and has an open cell black rubber backing. The quick ref text is permanently dyed right into the high quality fabric that lines the top of the pad. Works with ball, LED, and laser mice. The reference text contains the most commonly used Arduino programming commands.
Select from either 1/8" or 1/4" thick backing. I prefer the 1/8" backing, particularly for use with my laptop. The thinner material is lighter, and can be easily rolled up to take little space in the laptop bag. For those who prefer the thicker and more cushioned backing we offer the 1/4" pad for just $1.50 more.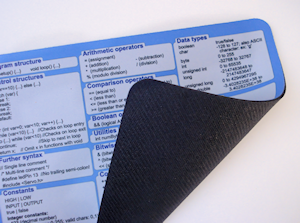 The open cell backing of the mouse pad is skid resistant.
The pad is available in both 1/8" and 1/4" thickness.
Now, you might have seen those custom imprinted mouse pads that are nothing more than a picture stuck under a piece of plastic. These aren't that kind! Our mouse pads use a high-density fabric that's permanently adhered to the rubber backing. The fabric is professionally dyed using color-fast inks that imded directly into the fabric. Our pads are naturally low-static, and washable.
Like our resistor color code reference cards, these Arduino quick reference mouse pads are affordably priced, and make great gifts, stocking stuffers, and handout material for schools and organizations. We offer quantity discounts when buying 20 or more pads, and we can even custom imprint the name of your school, business, or club. Send us e-mail for more information on bulk orders and custom imprinting.